Announcing Our New Luggage Labeling Hang Tag
Posted by: Bob Barenholtz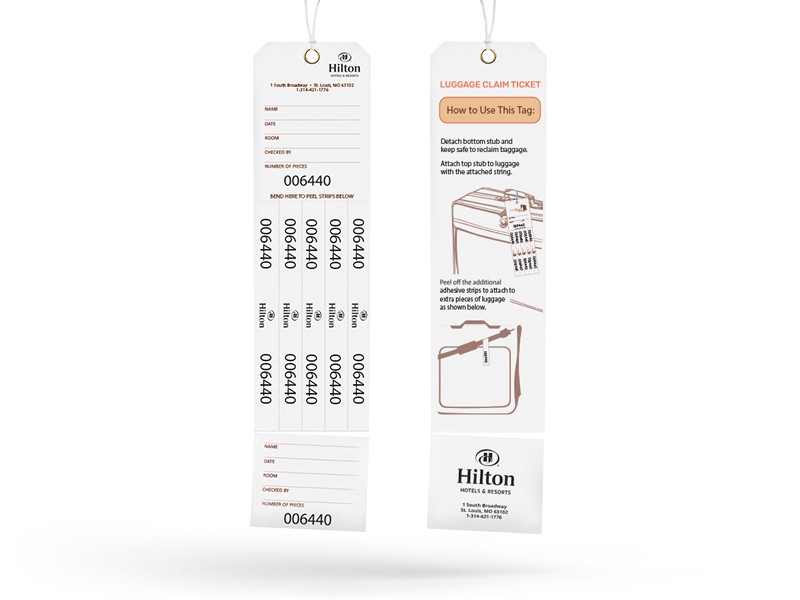 As a leader in the custom printed hang tag industry, St. Louis Tag recently expanded their hospitality industry offering with the addition of a Luggage Labeling Hang Tag. After feedback from hotel, resort and convention customers, St. Louis Tag developed a tag that speeds up service time when bags are checked. The two-sided tag includes a main bag check tag and with additional attached peel off tags with the same claim number that can be removed from the main tag and adhered to additional bags within the same party. This helps keep bags grouped together by claim and also saves staff time by only having to fill out one ticket per six bags.
The Luggage-Label Hang Tags feature two-sided printing, consecutive numbering, perforation, metal eyelet reinforcements, and elastic looped stringing. St. Louis Tag Co. even offers free design services for customers who do not have logos.
"This tag was something requested by our current customers and we were happy to develop it," said Bob Barenholtz, President of St. Louis Tag. "If we can manufacture a tag that saves our customers time, and easily brand it with their logo and address, we will. Our plan is to continue expanding our custom offering with tags designed for specific needs."
Exceptional customer service is one of St. Louis Tag Co.'s main objectives and that includes conceptualizing new, innovative hang tags for its customers. Already a leader in their industry, serving trade printers as well as direct-to-consumer, the company strives to continue their growth while keeping their customers at the forefront.
About St. Louis Tag Co., Inc.
St. Louis Tag Co., founded in 1959 in St. Louis, Missouri, specializes in manufacturing and finishing custom printed tags such as hang tags, shipping tags, industrial tags and retail tags. The company offers a wide range of custom options, including various tag stock such as Tyvek®, synthetic and paper, multiple choices for wire and string attachments and eco-friendly materials. St. Louis Tag's capabilities and the quality of its products have helped the company set the industry standard in manufacturing customized tags at competitive prices. For more information please visit www.stlouistag.com.
###