Posted by: Bob Barenholtz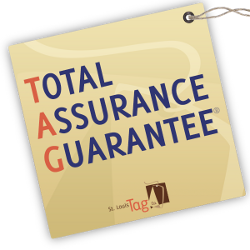 At St. Louis Tag Co., we are proud of our reputation as an industry leader. However, producing the highest quality hang tags and providing the best finishing services are not the only things that set us apart from our competitors. Every aspect of our business is designed to give you, the customer, our Total Assurance Guarantee®. This is why, at each step in the manufacturing process, representatives from our Customer Care Group are with you, ready to help ensure that your business relationship with St. Louis Tag Co. is the best it can be.
Total Assurance Guarantee®
St. Louis Tag Co. stands behind its products and production process. If a customer is not completely satisfied with their order, St. Louis Tag Co. will be more than happy to reprint the order in accordance with the customer's original specifications.