The Department of Homeland Security Cyber and Infrastructure Security Agency (DHS/CISA) has issued guidance for states, localities, and the private sector on what constitutes an essential business. Identified below are 16 critical infrastructure sectors designated as essential that must remain operational during the COVID-19 response. St. Louis Tag Co. provides custom-printed tags and related services to all 16 of these critical infrastructure sectors: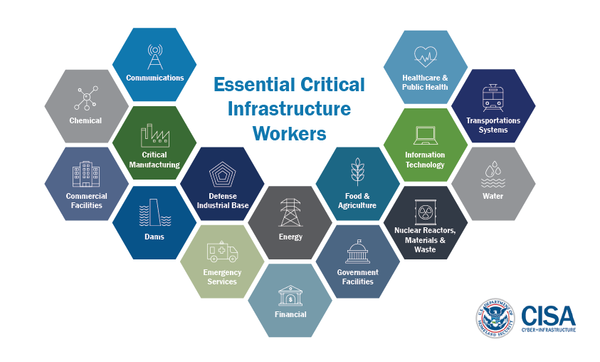 St. Louis Tag Co., providing essential products and services to critical infrastructure sectors, is operating at a normal level without restrictions or changes to production or delivery commitments - including the availability of local delivery and shipping our products around the country.
The St. Louis Tag Team is focused on the health and well-being of its employees, customers and trade partners. We strongly support the efforts of local health officials and government leaders working to contain the spread of the virus, and have implemented these precautions throughout our operation:
Implemented the recommended cleaning and sanitizing procedures by the U.S. Centers for Disease Control and Prevention (CDC), and The World Health Organization (WHO) in and around our offices and manufacturing facility.
Reminding our employees about frequent hand washing and we are regularly cleaning and disinfecting our equipment and facilities.
Most importantly, we are asking anyone who is ill, experiencing cold or flu symptoms, has a fever, has recently been exposed to the coronavirus, or traveled to a location with community transmission, to refrain from returning to work and to please seek immediate medical help.
Prepared our Tag Team to respond quickly to developments that could impact our operations and keeping up to date with the latest information from our federal, state and local governments.
Please keep in mind, given the rapidly evolving public response to this situation, some impacts to our service may become unavoidable, as new advice and procedures are determined as a result of this rapidly changing environment. We will provide updates on the status of our operations via email and our website, alerting you to any potential delays or required changes to timeframes or commitments
Our thoughts and prayers are with all those impacted directly by this disease. Thank you for your business, and we look forward to working with you through this crisis.